Time for my latest RAAF additions - not a new release but only recently landed after a long time on order.
Aeroclassics RAAF BAC-111 pair
34 Squadron (VIP TRansport), Farirbairn, ACT
A12-124 and A12-125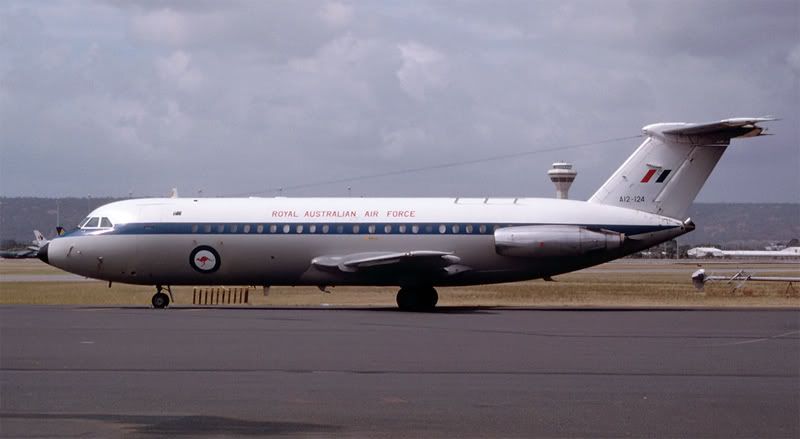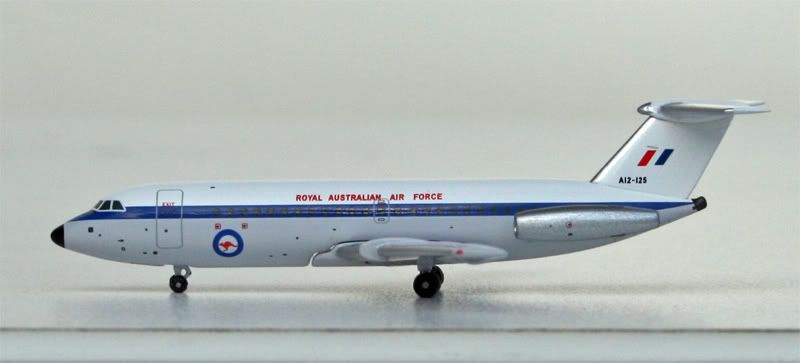 Of interest to me was the way that at the end of 2008 there was almost simultaneous release of the same aircraft by different manufacturers. Whilst there was speculation of this release by Aeroclassics, JC Wings beat AK to the punch and released A12-125 some months before. JC Wings was a new player on the block, but did a very impressive job.
The BAC 111 had its beginnings in the Hunting Aircraft H.107 32-seat airliner designed in 1957, but this design was shelved. The British Aircraft Corporation was formed in February 1960 with the amalgamation of the Bristol Aeroplane Co Ltd, English Electric Co Ltd and Vickers Ltd. BAC also had a controlling share in Hunting Aircraft Ltd, and the H.107 design was reactivated as the 59-seat BAC 107. Demand, however, was for a larger Viscount-sized airliner, which led to the 79-seat BAC 111.
British United Airways was the launch customer for the BAC 111 with an order for 10 aircraft in May 1961, followed in October by Braniff, which became the first US airline to order foreign equipment off the drawing board.
In May 1963 three variants of the BAC 111 were announced. The basic Series 200 had Rolls-Royce Spey 506 turbofans, the longer range/greater payload Series 300 had Spey 511s, and a similar Series 400 met requirements for the US market.
The Series 200 was selected by the RAAF and two aircraft were ordered in April 1966 at a cost of $4 million each. The model designation for the RAAF was One Eleven 217EA, and these aircraft had the more powerful Spey 511-14 turbofans of the Series 300 aircraft. The first RAAF aircraft, A12-124, flew on 3 November 1967 and was accepted by the RAAF on 21 December, arriving at RAAF Fairbairn on 18 January 1968. The second aircraft, A12-125, flew on 10 January 1968 and was accepted on 31 January. It arrived at Fairbairn on 8 February 1968.
In No 34 Squadron service the BAC 111 joined three Mystere 20 jets, with two HS748s and two Viscount turboprop transports, making the RAAF VIP fleet nine strong, of four different types. In 20 years' service the BAC 111s flew over 25,000 hours with No 34 Squadron before being replaced by the Falcon 900 in 1989.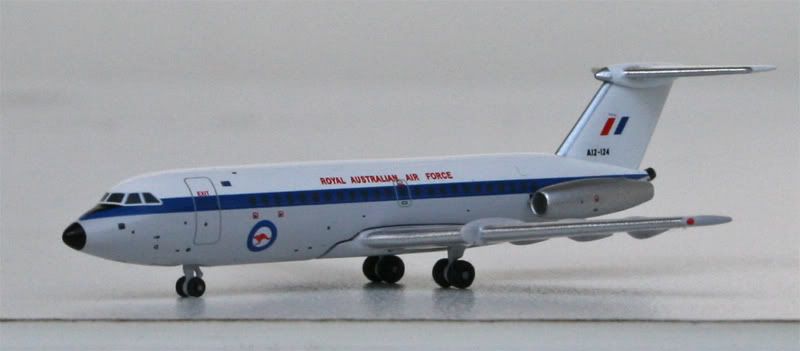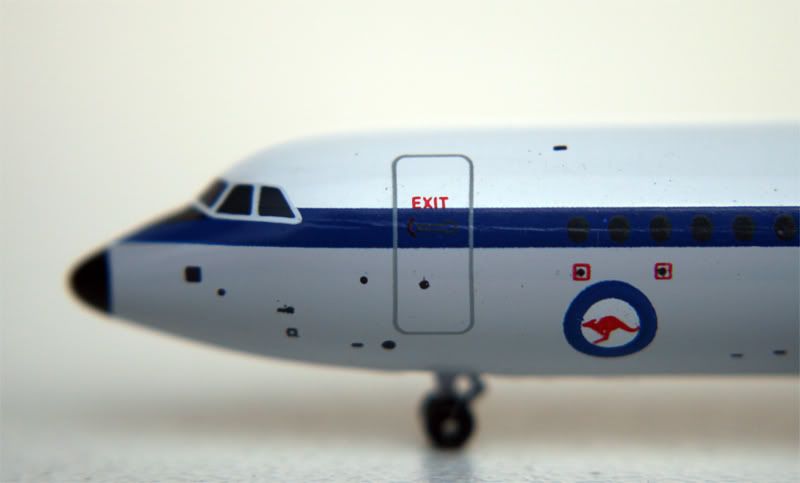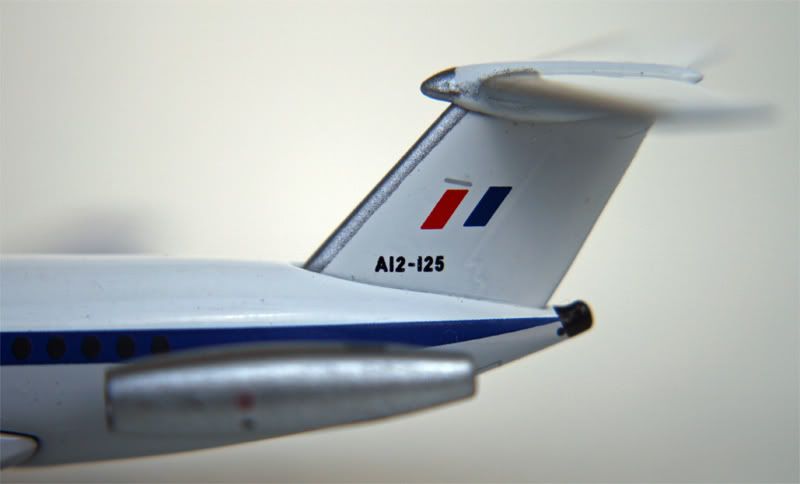 I actually think the JC Wings release is superior in the mould, landing gear and accuracy of the printing. For comparison here are some pics.