Quote:
Originally Posted by
Citiflyer

I'm really looking forward to seeing the pictures. I love the design of your other airport.

Sorry for the delay, by the way!

Today i've spent my whole day building the airport! From 10AM to 21PM!

EVERYTHING is handmade (of couse, except GSE which is Herpa). The terminal building and Cargo terminal are simple wood blocks. I've used a pretty cool silver spray paint that makes everything look metallic.
The tower is made of Lego, i've used the cool spray to make it silver.The antennas of the tower are cutted wires (like the ones from a fence). Windows, logos and ads were made in computer, were printed and glued.
Taxiway and runways markings were made using Uniposca pens. Model grass was bought on eBay. I painted the top of the model grass, to give it different tonalities (like a healty lawn and other not so healthy).
PLEASE NOTE
: unfortunately I ran out of superglue and I couldn't glue the lightpoles. I'll do it tomorrow, as soon as I buy the glue.
PLEASE NOTE NUMBER II
: Although almost all planes here are from European carriers, my airport is not located in Europe. This is a leisure airport in Willy White Island, located in ficticious Dog Islands... in the middle of the ocean. Traffic should be charter and leisure oriented, and mostly from USA, Caribbean and Europe.
Anyway, let's go to the pics, finally!
First of all, the construction:
At the beginning, it was like this... note the old look of WWH and my dog Nick passing by!

Things getting better...
Runway and taxiways done.
Terminal done! Testing the models and the jetways.
Dat SIA 777...

Terminal all alone
Piano keys being done and corrected.
Overview... still lots to go!
Doing parking lines and jetway operational areas (in red)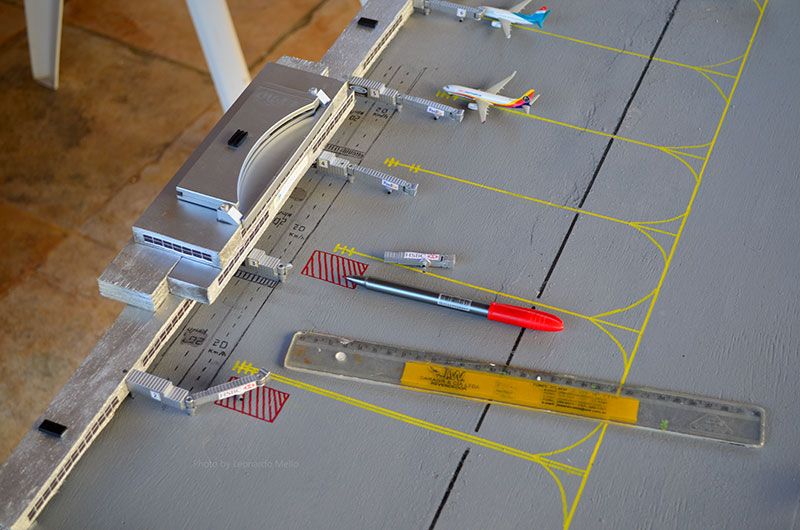 Things are getting even better!

NEXT STEP: the airport done!