My way toward the handmade airports perfection pass through
Osaka "Kansai"
International Airport
.
I need an Asian big hub and i considered Hong Kong "Chep Lak Kok", Shanghai "Pudong" and an airport in Japan with enough regional, domestic, international and intercontinental traffic, so my choice has been for Osaka "Kansai".
Osaka "Kansai" has enough traffic to satisfy my conditions.
These the airlines serving the airport:
Air Busan
Air Canada
Air Canada Rouge
Air China
Air France
Air India
Air Macau
Air New Zealand
Air Seoul
Air Asia X
AirCalin
ANA
Asiana Airlines
Beijing Capital Airlines
British Airways
Cathay Pacific
Cebu Pacific
China Airlines
China Eastern Airlines
China Southern Airlines
Delta Air Lines
Eastar Jet
Egypt Air
Emirates
Eva Air
Finnair
Garuda Indonesia
Hainan Airlines
Hawaiian Airlines
Hong Kong Airlines
Hong Kong Express
Japan Airlines
Japan Transocean Air
Jeju Air
Jetstar Airways
Jetstar Asia Airways
Jetstar Japan
Jetstar Pacific
Jin Air
Juneyao Airlines
KLM
Korean Air
Lufthansa
Malaysia Airlines
MIAT-Mongolian Airlines
Nepal Airlines
NokScoot
Okay Airways
Peach Aviation
Philippine Airlines
Philippines AirAsia
Qantas
S7 Airlines
Scoot
Shandong Airlines
Shanghai Airlines
Shenzhen Airlines
Sichuan Airlines
Singapore Airlines
Spring Airlines
Starflyer
Thai Air AsiaX
Thai Airways
Thai Lion Air
Tianjin Airlines
Tigerair Taiwan
Turkish Airlines
T'way Airlines
United Airlines
Vietjet Air
Vietnam Airlines
XiamenAir
There are many widebodies serving Kansai, among them B777W, B787, A380, A350, A330, B767, B777-200.
My project is a 1:500 scale central section of the airport, with 10 parking stands available for widebodies and, of course, narrowbodies.
The apron marks/lines and the tarmac grid are quite simple to realize, the problem is the terminal building. As Manchester Terminal 2, i will realize a narrow strip for all the layout lenght, but this terminal (realized by the great Italian architect Renzo Piano) is curved, so i have to cut the wood trying to obtain a long terminal building that curves downwards.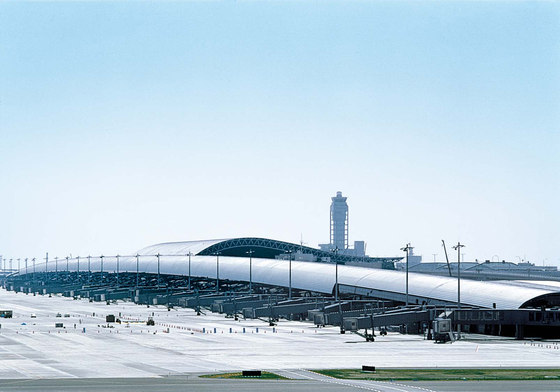 I realized some sketches