Well, I guess this should count for what I got for Christmas - I couldn't help myself and splurged on a GMP model and not disappointed. Although better known for their high end quality diecast cars, GMP have made a limited number of 1:35 scale warbirds.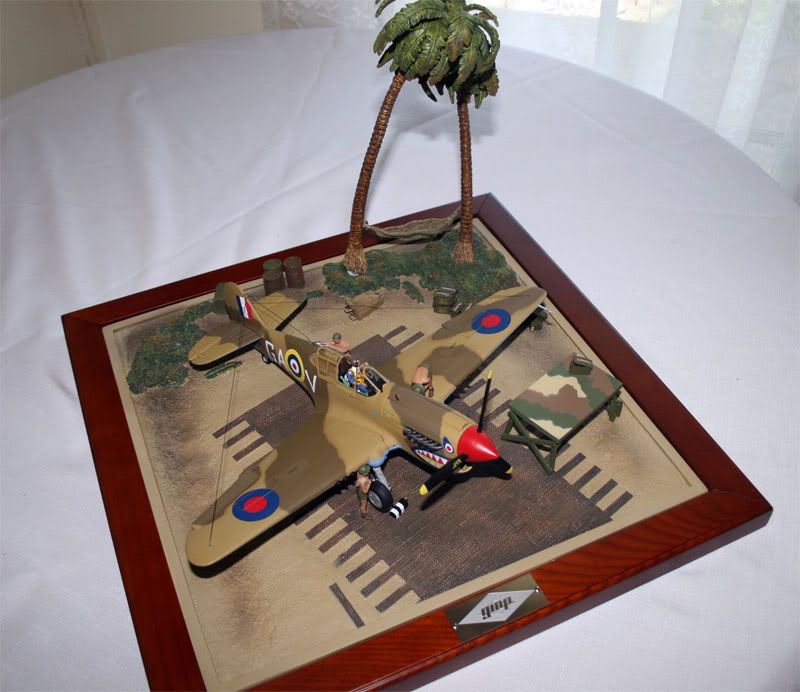 The model I bought is a RAF P-40E Kittyhawk in RAF Northern Desert campaign colours. It is from 112 Squadron RAF, a unit made up of Brits, Aussies, South Africans and Kiwis. This squadron flew alongside RAAF 3 Squadron and many of the aircraft were swapped between the two.
112 Squadron became famous for the shark teeth painted on the engine cowling.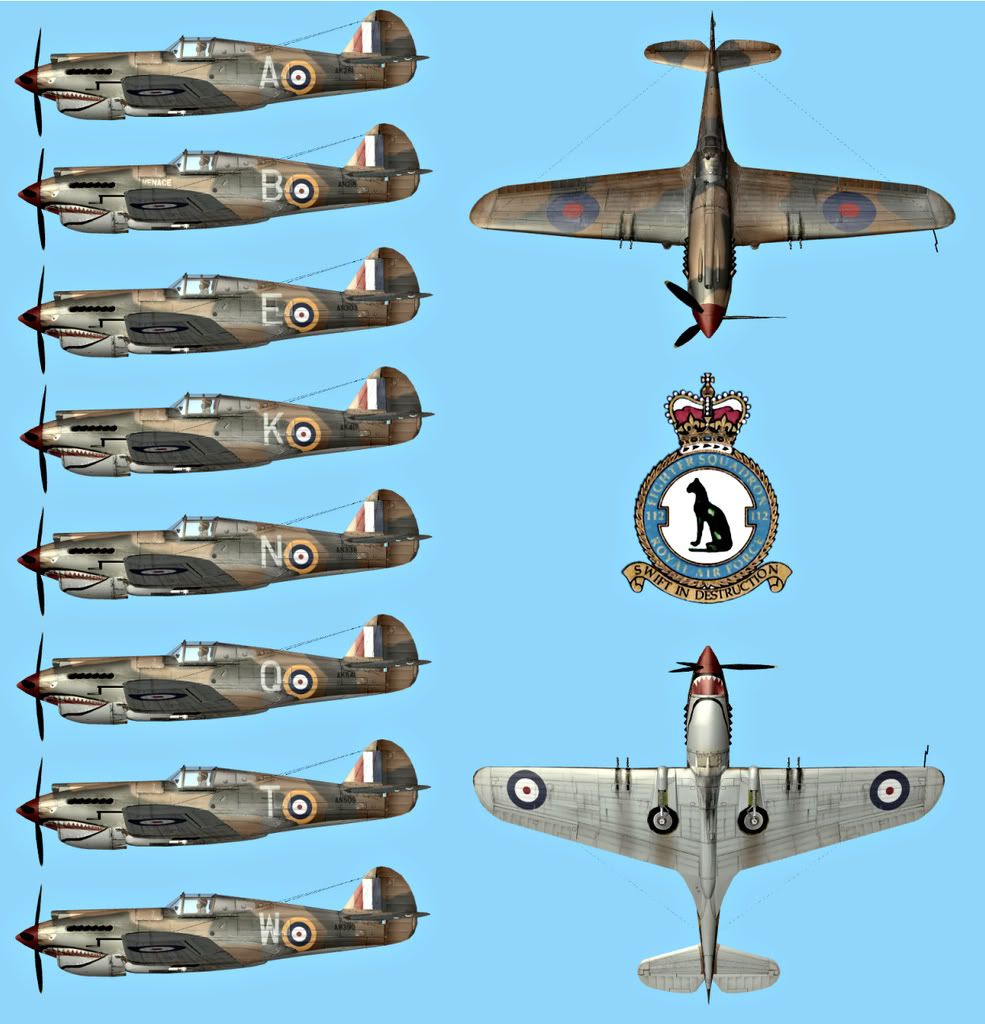 Chennault's American Volunteer Group (Flying Tigers) were to copy this and use it on their P-40's against the Japanese in China. What is less well known is that 112 Squadron had copied it originally from the Luftwaffe. Although the details are sketchy (and it has been variously attributed as appearing on Bf109's and Ju-87's) the most believable source would suggest that it was actually copied them from the Me 110's of Zerstoerergeschwader 26. I can find no photographic record of Me110's of ZG 26 with the sharkmouth but it is possible that some aircraft were painted with them after the fashion of Me100's of ZG 76 that flew in Norway.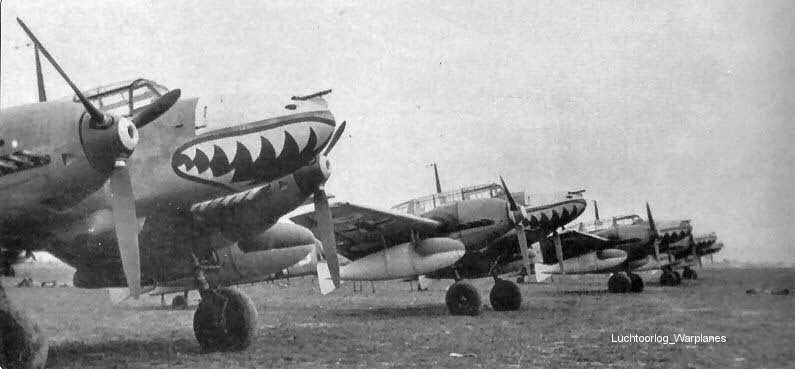 The RAAF also used the sharkmouth motif on their spitfires in the South Pacific where Bobby Gibbes headed up the "Grey Nurse" squadron.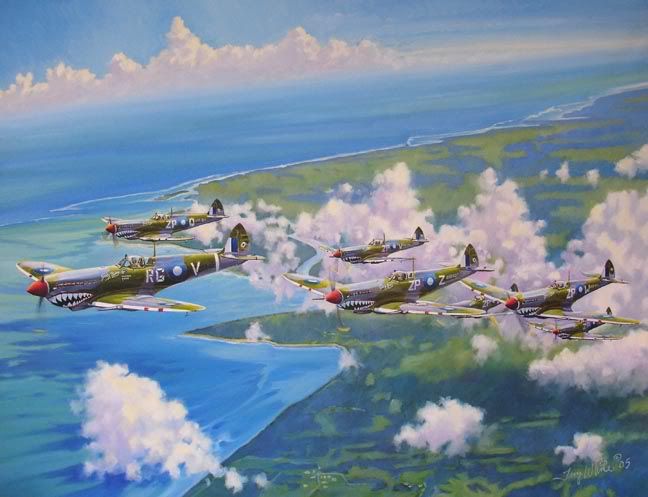 The model is supposed to represent the plane that was oft piloted by Pilot Officer Neville Duke, who was to go on to become one of Britain's most famous aces. Unfortunately it is not accurate. The model is a superb rendition of a P-40E (Known by the English as a MkIa Kittyhawk, but the RAAF used the P-40 designation) which carries 6 machineguns in the wings.
The aircraft of Duke was AK578 (GA V) which was a P-40D or Kittyhawk Mk1. Only 20 saw service and they can be distinguished by having only 4 guns in the wings.
Here is a picture of the aircraft taken at Sidi Hanish with Plt Off Robert James Daniel "Butch" Jeffries, RAAF standing in front.
Butch was KIA 12 Dec 1941 and Neville Duke flew the plane in early 1942, although he had only 1 and a half victories in it and these were his only claims in a Kittyhawk. AK578 became the charge of Plt Off Felix Francis Joseph Edwards until it was damaged 2/5/42 but was repaired and saw further action with Nos 4 and 5 Sqns SAAF before going on to No.73 OTU. It was listed as missing during a training flight with this unit in March 1944.
I am vacillating whether to convert my model to the markings GA X, which was the Kittyhawk MkIa that was flown by Clive Caldwell as his personal plane whilst Squadron Leader of 112 Sqn.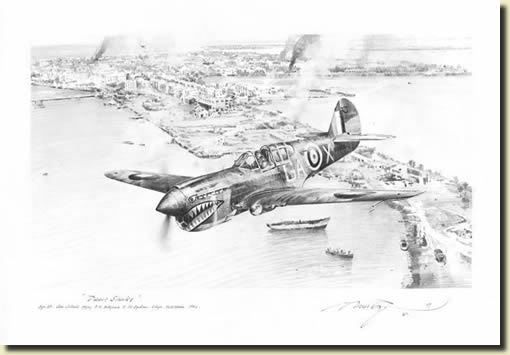 The plane was AK658 and bore the name "Grim Jester" in yellow below the cockpit. I cannot ascertain if this was the plane that bore him 3 of his 5 victories whilst at 112 Sqn but the last 2 were in AK772 (GA Y) which Caldwell flew after AK658 was destroyed on 27/2/42 by enemy strafe by 5/JG27. GA Y became the mount of Flt Sgt Burney and had "London Pride" painted on it after Caldwell was ordered to return to Australia to lead the defence of Darwin.
Caldwell was Australia's alltime leading ace and already had 17 victories under his belt flying P-40B Tomahawks with 250 Sqn. By the end of December 1941, Caldwell had logged a total of 585 hours and 15 minutes flying time. All up in the Middle East, he covered 67,000 miles in operational flying.
Caldwell apparently told a story that highlights the extent of this operational experience. One day he was speaking with an American fighter pilot. "`You a pursoot pilot?' asked the American. `Yes' [said Caldwell]. `You seen any action?'. `Oh, yes. A bit'. `You'll see plenty before you've finished', nodded the American. `I've been on seven missions.' `You have?' replied Caldwell. `I sure have. How many have you been on?'. `Oh, ... about two hundred and eighty'."
Caldwell wrote that he had enjoyed his time with 250 Squadron, flying "more operations with it than any other unit and [where he] had more good fortune", but he actually considered 112 Squadron, as his first command, to be his favourite squadron. He developed into a leader and administrator who received the highest forms of praise. In December 1941, Squadron Leader Morris wrote in Caldwell's log book "An exceptional fighter pilot whose leadership and skill in combat have been of the highest order". These leadership and combat skills were recognised further when, on promotion to Squadron Leader of 112 Squadron, Caldwell became the first Empire Training Scheme pilot to be appointed to the command of an RAF fighter squadron. In May 1942, Air Chief Marshal Sir Arthur Tedder wrote in Caldwell's flying log "An excellent leader and a first class shot", and as well as the DFC and Bar, Caldwell was awarded the Polish Cross of Valour in 1942 and the Distinguished Service Order in 1943. Caldwell transferred to his new command early in January 1942. The majority of Caldwell's kills occurred during his time with 250 Squadron, but he continued to rack up successes with 112 Squadron and throughout his flying career.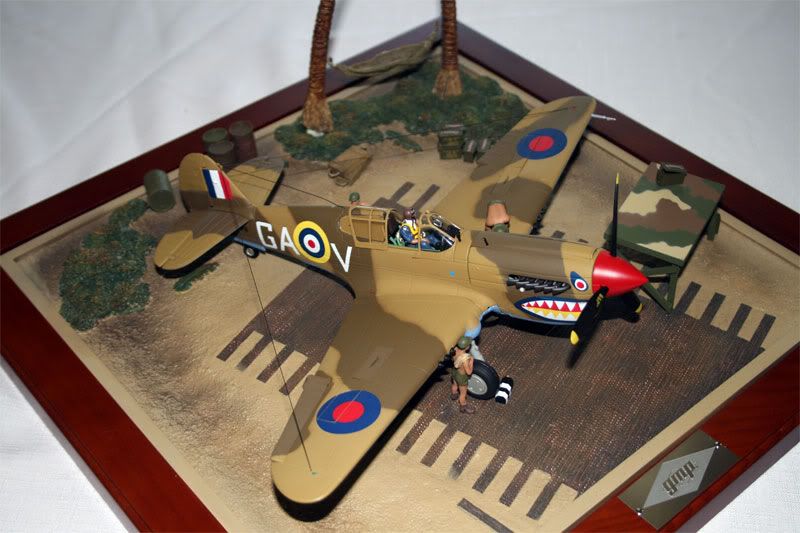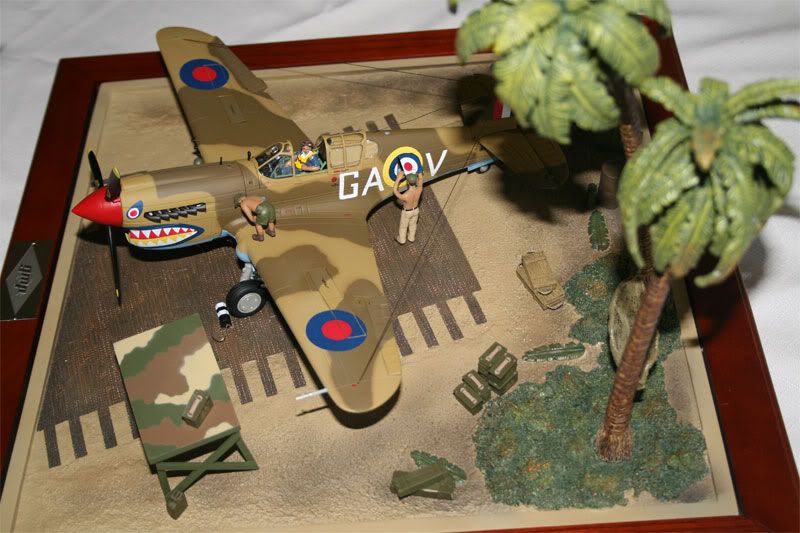 In any event, it is a great model - beautifully detailed and it even has an undercarriage that deploys automatically and realistically! Hope you like it as much as I obviously do!
(And yes - it is expensive but in my mind worth it)