The Whole Story
.
Everything started when i was very young, during a study trip to UK: i arrived to London "Heathrow" with a B747SP of an African airline, maybe South African Airways coming from Johannesburg via Rome and arriving to London. I remained surprised by the beauty of the airplane so i started to study the airlines, the airplanes, the liveries, scheduled/charter flights, the first LCC, etc.
Then, in 1996, it was the day of "Independence Day" movie premiere here in Rome: i was waling toward the cinema when, in front of Galleria San Carlo shop in Corso Street, i was amazed by three Herpa models: Lybian Arab Airlines B727-200, Royal Jordanian A320 and Royal Jordanian L-1011.
They were three old generation models, extremely ugly compared with those of the year 2019, but at my eyes they were amazing! So i started to collect models...
During the first years '90 i received a book with some leisure/charter airlines: i liked them, their liveries, their colors, the non-scheduled -> charter operations, and the leisure atmosphere around them because of the holiday spots served by them.
But, during my collection, i was always disappointed by Herpa: so many beautiful leisure airlines with striking liveries not produced by the German manufacturer, clearly focused on legacy and flag carriers and, among them, especially on widebodies.
Each batch of news without at least one leisure/charter or low cost airline i was disappointed: it is in my collector DNA, i love them even having never flown with them! My only leisure airline experience has been Rome - Santorini, operated by Blue-express, the leisure/charter brand of the already leisure Blue Panorama airlines (the experience was wonderful).
From 1995 to 2015 too many leisure/charter/low cost airlines passed away without seeing them at least reproduced in 1:500 scale:
Volare airlines, Volareweb, Axon Airlines, EUJet, GirJet, Excel Airways-> XL Airways UK, Sterling.dk, Air One, Volar, Alpi Eagles, WindJet, Futura, Helios, Eurocypria, Primera, Airtours, Primair, Aeris, Euralair, Axis Airways, Air Slovakia, Slovak Airlines etc. etc. etc.
Herpa seemed to do it on purpose, not releasing them: even for flag carriers like British Airways and Finnair, Herpa never realized the two airplanes used for leisure flights, the Finnair B757-200WL and the British Airways B737-400
About SAS, using the B737-800 for leisure flights to many European airports, after many requests Herpa realized it...but this is matter of another mystery.
Then let me arrive at
Novair
: why this unknown airline?
For these pics: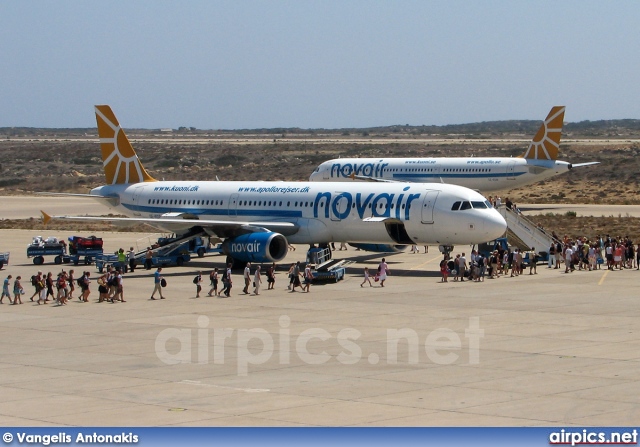 These pics show two Novair A321's in leisure/holiday airports, ready to loading7unloading passengers.
These pics are the essence of leisure/holiday civil world: sea, sand, sun, airplanes with striking liveries, holidaymakers ready to spent their holidays in the better spots, loaded by ad hoc airlines and flights.
But Novair is also a love for another pic:
the wonderful Novair L-1011, a superb model. What Herpa did? Released the A330-200...incredible!
My love for Novair and the other Scandinavian airlines of the past and the present is also feeded by my respect, love, passion for Scandinavian countries, history and people.
For this reason i always wanted airlines like MDAirline (MD-80), Sterling.dk (B737-700WL with the red livery and the two hearts on the tail fin), TUIfly Nordic (B757, B737-800...what Herpa released??? the B767-300WL!!! incredible to believe!), JetTime (B737-700WL and B737-300WL), Primera (demised, B737-700WL and B737-800WL).
I must be sincere with you all: of course i am extremely happy for Novair A321neo release, but once again Herpa made me a bit disappointed. The model in production has "Apollo" written on the fuselage, not "Novair"; the two 1:1 Novair A321neo's, in fact, flies for Apollo, the Swedish tourism agency feeding Novair!
Really insatiable!
(by
Charter
)