Quote:
Originally Posted by
3DPrinting

The A380 jetway would be no problem. Would you be able to direct me to a site that would have the dimensions so we can model it accurately?
I will have to look into this, and will post when I find such site.
Quote:
Originally Posted by
tomek-czarnyszewicz

...
I guess to make particular A380 jetways doesn't have a sence. If they will be made in shape of Heathrow or Frankfurt or any other airport, than people wouldn't use them on their fantasy airports.
Or you want to do few different designs, to be sold as sets for designated aiports.

...
Several things:
1) I am very much in favor of generic jetways. This way they can be customized with some decals to look like glass jetways:
or just paint them to a custom color:
You can also make them with a "ribbed" texture, just like Herpa's generic jetways:
2) I guess if you will make an A380-capable jetway, it would only make sense if you could offer it as a set, so that it will not look too different from the other two:
3) The current problem with Herpa's jetways is that they are of a fixed length and cannot be adjusted. It is quite unrealistic, not to mention hard to position on an airport layout. You have to build around its dimensions. In real life, you see jetways in all sorts of lengths to accommodate to the position of the doors it is servicing, relative to its attachment to the terminal:
The other thing that fixed-length jetways cannot do is to enable "double spot" parking for two small planes where only one jumbo can normally fit. Tokyo's Haneda international terminal has two double-spot parking to its left: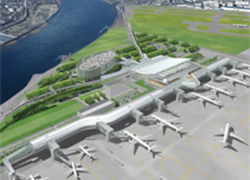 Lastly, the other GSEs that do not exist in the Herpa world, which I think is very important are the following:
1) A380 catering equipment:
2) mobile gates
3) airstairs that are adjustable:
http://www.wings900.com/vb/1-500-sca...tml#post218267
Looking forward to all your projects! And I hope you keep listening to us!