They are indeed similar.
However, the mould used by Netmodels, Sky500 and Herpa (NGII) have a few different aspects, which bother me a lot!
For a comparison, take a look at this RAM B747-400 (Starjets) and this KLM B747-400 (Herpa NGII)
Starjets B747-400:
StarJets 1:500 Royal Air Maroc B 747-428 - Wings900 ID# 7091
Herpa NGII B747-400:
Herpa 1:500 KLM Royal Dutch Airlines B 747-406 - Wings900 ID# 37169
I'll point out what I like and what I don't like between 3 moulds: Herpa's NG1 (also used by Hogan), Herpa's NG2 (Sky500 and Netmodels) and Starjets.
-----------------------------------------------------------------------------------------------
***LANDING GEARS***
Starjets 747 have very nice landing gears, just like Herpa NGI mould. However, the gears used by Herpa NGII are simply pathetic. They are made of metal, which isn't too good to create small details. The wheels are supposed to roll but they sometimes don't. The wheel hubs are sometimes too small because they look like a pin, placed to allow the wheels to roll.
The nose gear of the Herpa NGII is sometimes too long, giving the model a nose-up attitude. I also think the wheels are too small sometimes.
Herpa NG1 landing gears were great. Detailed nose gear, nice tire size, bogeys close to each other just like the real 747. They were made of plastic and were very nicely designed. The only drawback was the length. On early NGI models (NWA, Air Canada, KLM PH-BFI, for example), the nose gear was too short. This was later corrected on newer NGI versions (Qantas, JAL). The main gears could also be shorter.
Starjets landing gear is also great, the only drawback for me is the nose gear, which could be more detailed. And also, it's inclined forward sometimes (A320, MD-11 style) while it should be straight.
Herpa NG2 have a clumsy landing gear! Gear structures look squared, tires look too small, bogeys are too far from each other, gears are sometimes crooked... anyway, I find this to be totally awful.
Herpa NG1 and Starjets have great gears: clean structure, nice big tires, bogeys close to each other.
These are the main landing gears of the real 747.
Starjets and Herpa NG1 moulds have fine gears, now compare the real 747 gears and the NG2 gears
https://upload.wikimedia.org/wikiped..._of_747-8F.jpg
NOTE:
For some reason, this only Qantas 747 from Herpa, which debuted the NGII mould for the German manufacturer, had nice gears. I think these gears look like Starjets or early Netmodels...
Herpa 1:500 Qantas Airways B 747-438 - Wings900 ID# 22622
If only all NGII had these gears...
--------------------------------------------------------------------------------------------
***NOSE SECTION, NOSE GEAR, GEAR DOORS***
I've added this 5 Stars model as a bonus, because it has one of the most well detailed 747 nose gears i've seen. I like it a lot. IF500 and BigBird are also great. But let's focus on Starjets x Herpa.
I think the front section of Herpa NGII is too pointy! It's ok in some models, but in some other models it's really ugly. Maybe it's the angle of the pic...
Starjets seems to be fine. Herpa NGI is also fine for me.
Nose gear doors: Starjets have them big, they would look much better trimmed a bit.
Same goes to early Herpa NGII models. It seems that Herpa reduced the size of the nose gear doors for the NGII models (Emirates SkyCargo, for example). Herpa NGI had the perfect size in my opinion (at this pic, 5 Stars too!).
Nose gears: Starjets is totally underdetailed, very poor nose gear. It's poor because it lacks details, but the tire and wheelhub size are great and so is the gear leg.
Herpa NGII is a total disaster IMHO. Too small wheelhubs make the model look poor (Aero500 777 suffers the same problem). The gear is underdetailed too and sometimes is too long.
Herpa NGI and 5 Stars are the best ones in this pic, by far!
This pic just shows me how poor the NGII nose gear is. Totally amateur...
Cockpit windows: Starjets seem to place them sometimes too low. Their mould should also have a smoother "forehead" (part right above the cockpit). Herpa NGI is great in my opinion. Herpa NGII and Sky500 also have a nice cockpit placement, but Netmodels had a terrible placement and always placed them too high. Of course, this is a printing problem, not related to the mould.
------------------------------------------------------------------------------------------------
***UPPER DECK***
Seems to be fine on the three moulds, so nothing to say here!

Can't say the same to IF500 and BigBird (747-300/400), but that's not the case in this discussion!
----------------------------------------------------------------------------------------------------
***ENGINES***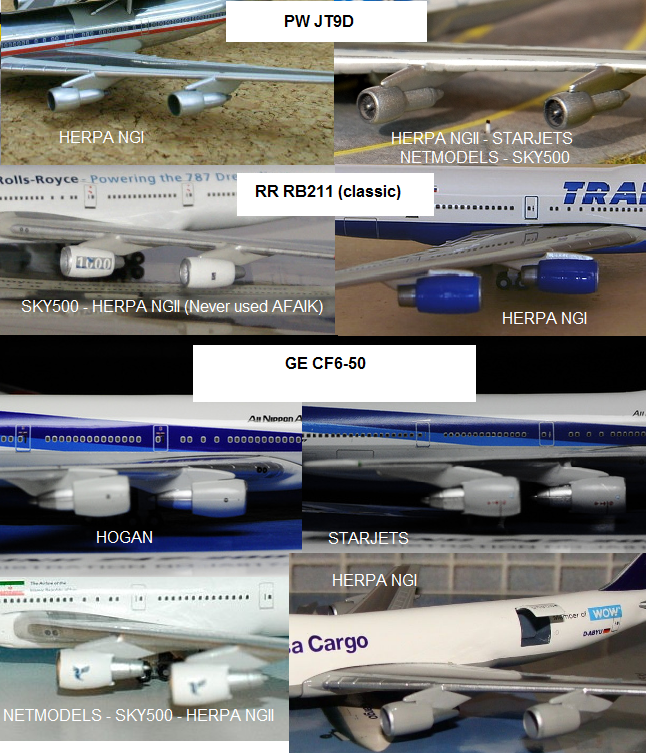 PW JT9D (used on B747-100/200/300/SP) are amazing on Herpa NGI.
I believe Sérgio is the perfect man to say perfectly the details of each engine, but this is my opinion...
The JT9D used by Starjets seems to be the same as the one used by Herpa NGII.
I think it's not so well done, looks a bit round to me, not sure. I don't mind a lot, but I prefer NGI in this case. NGI also seem to be wider...
Rolls Royce models for B747 Classics: VERY nice on Sky500/NGII mould, very poor for Herpa NGI.
GE CF6 engine (classics): On early NG1 747-200 models with GE engines, Herpa used a poor looking engine, looking like a OG JT9D engine (Alitalia I-DEMY, for example). On late NG1 B747-200 models, the engine seem to be the same GE used for 744.
Starjets have a nice GE engine for 747 Classic.
BONUS: Hogan seems to use a nice GE engine for B747-200. I've never seen this before, I thought this was the same engine as early NGI GE engine but the bottom of the engine is rounded just like the real GE CF6 of 747-200.
Herpa NGII/Netmodels also use the same GE engine for B747 classic and B747-400. And it looks veeery poor in my opinion. Exhaust too thin!
Boeing 747-400 engines!
Herpa NG1: all engines look fine to me, shape-wise. However, they are under-detailed. The RR engine could be hollow at the end, for example. The rear looks really bad.
PW engines could have a longer exhaust cone, but not too long (not like NGII B767-300).
GE is fine IMHO. Not perfect but not bad either.
Sky500/Herpa NGII is a total disaster for PW and GE engines. They use GE for PW
The engine exhaust cone is simply too thin. Terrible!

Their RR engines look fine, but also isn't hollow at the end. Same problem as Herpa NGI.
Starjets early GE engines were nicely shaped but were oversized. Really a shame. But thankfully they corrected this and created the best 747-400 GE engine mould for 1:500

with correct size, shape and great details! But the problem is: they don't have PW engines and use GE as a PW
just like Sky500.
And they don't have a RR engine
-------------------------------------------------------------------------------------------
***WING-FUSELAGE JOINT***
Herpa NG1 have a conventional insertion of the wings on the fuselage. Unfortunately it isn't laterally inserted. This means that there's a little vertical seamline right below the wingroot. I really doesn't bother me at all.
The center fuel tank of the 747 is well done. I like it this way.
Herpa NG2/Sky500/Netmodels... disaster. Total disaster. What is this? A frog's vocal sac?! The seam is SCREAMINGLY visible, and is deep, it's so damn visible. The center tank is too big, and sometimes we don't know when the wing begins and the tank ends (Air Bridge Cargo VP-BIM, for example).
It's awful. Probably the worst aspect of NGII, together with engines and gears.
To make it even worse, Herpa is having a terrible attitude of painting over the wing. For example: check out this Transaero 747.
Look how the blue livery on the belly goes over the wing. It should actually go straight and not over the wing. This is Herpa's fault, not a mould related fault, but I guess the wingbox plays a role.
http://herpa.online/1864/-528818-tra...ht-of-hope.jpg
Starjets also have a similar structure as NGII, however, it's muuuuuch better.
The seam is still visible but is smoother and the fuel tank is also smoother at the correct size.
While Starjets looks much better than NGII, I still think this seam is bad, and NGI is by far the best one. Now we need a 747 with laterally inserted wings! Oh wait, we have the B747-8... why not update the other 747s moulds, Herpa and Sky500?
----------------------------------------------------------------------------------------
***TAIL***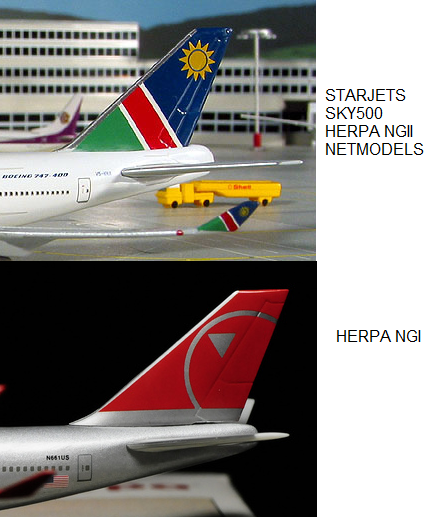 Herpa NGI have a really accurate tail.
Rudder isn't double slotted and everything looks fine.
NGII/Starjets/Netmodels/Sky500 tail is the same.
It's not bad, but could be better. The rudder shouldn't be double slotted, that feature is present only on the 747SP.
The tail could also be a little wider. I feel it's too thin when compared to NGI, which looks more like the real 747 tail.
-------------------------------------------------------------------------------------------------
***SUMMING UP***
My highlights and cons about these three moulds
Starjets (late version)
- great gears
- great GE engines, best ones
- PW JT9D engines could be improved
- nice mould
- tail could be better, still OK
- nose gear and gear doors could be much better, but still OK
- no PW or RR engine for 747-400, that's badddddd
- cockpit windows could have a little improvement
- winglets OK
- wingbox OK, but could be better
Herpa NGII / Sky500 / Netmodels
- awful gears
- too pointy nose
- awful GE engines
- no PW engines
- RR engines OK (747-400)
- RR engines amazing (747 Classic)
- ugly wingbox
- winglets OK
- PW JT9D engines could be improved
- tail could be improved, just like Starjets
- Cockpit windows OK for Herpa, awfully high for Netmodels, OK for Sky500
Herpa NGI
- great gears
- great nose
- great nose doors
- nice engines, RR could be much improved
- wingflex ugly, too high
- nose down attitude could be corrected in some models
- Cockpit windows could be improved in some models
- Best tail
- best wingbox (wing-fuselage joint)
- winglets too long/pointy, could be improved
Overall, Starjets is the best in my opinion, with Herpa NGI in a close second... and Herpa NGII could go to hell

woooooow, that was long! I'm tired" But I hope this helps.
Most of the pics are from Altinomh, Charter and Michal (pooooooooooohaty), so thanks guys for posting these pics !