Its been a long time coming, I have been on this damn forum for 3 years and have not posted one picture of any of my planes!
Well people, today that changes!
So, if you don't like the stunning quality of my pictures...I dont really care

If you want to see more though, please, let me know....I really dont want to take the time to unbox, take pictures, re-box, and post if all people are gonna do is whine about my less than superb picture taking skills.
IF THE PICTURES ARE TOO SMALL---CLICK EM' OR SOMETHING
So, all that aside, please take your seat, buckle up and enjoy the flight

United Express ERJ 145; CRJ 700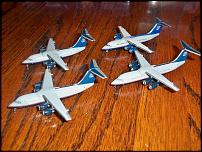 United Express BAe 146-100/200/300 (2 -300 versions GJ, Jet X)
US Airways Express CRJ 200; DHC-8-202
US Airways Express CRJ 900; CRJ 700
US Airways Express ERJ 145
Delta Connection CRJ 200; CRJ 100
Delta Connection CRJ 700 "Silver and Soaring"; Delta Saab 340
Delta Connection CRJ 900 "Comair 30th"; CRJ 900
American Eagle ATR 72-500; Saab 340
American Eagle CRJ 700; Continental Connection DHC 8-400